News
Packaging machinery usher in a new growth point
Date:2021-11-05 17:07:26
Clicks:
In daily life, packaging is a product closely related to our lives. In the past 30 years, packaging machinery has gradually developed into one of the top ten industries in China's machinery industry. As the world's largest producer and exporter of commodities, China's packaging industry is also regarded as one of the world's fastest-growing segments with the greatest potential.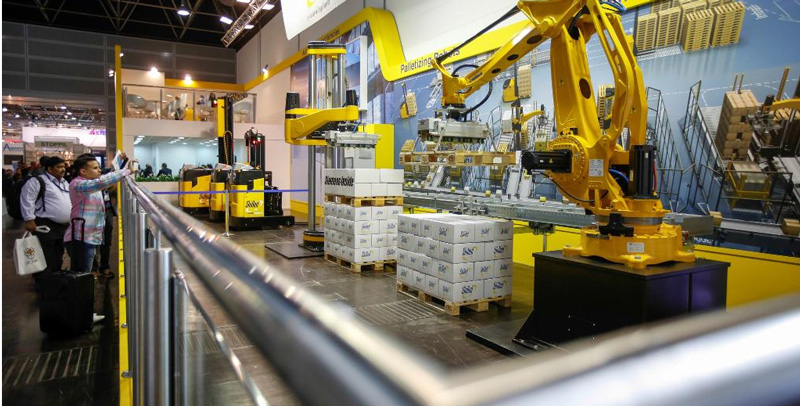 1、Packaging machinery started late, but came from behind
At present, the overall technical level of China's packaging machinery industry has reached the international mid-to-upstream level, and more foreign trade companies have entered the international market competition arena, contributing more revenue to the export of packaging machinery. According to data from the General Administration of Customs: January-September 2020, China's packaging machinery export volume and volume both increased year-on-year. Among them, the export volume was 9.39 million units, an increase of 48.1%; the export value was US$20,422,55,000, an increase of 0.4%.
According to the National Bureau of Statistics, the output of special packaging equipment in China is gradually increasing: in the first four months of 2021, the output of special packaging equipment in China was 228,200 units, a year-on-year increase of 159.1%. In 2020, the output of special packaging equipment in China will reach 263,400 units, a year-on-year increase of 25.2%.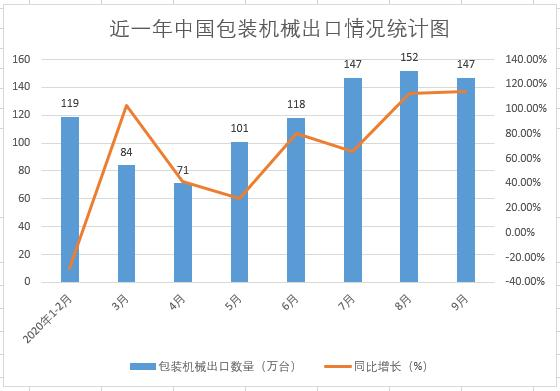 In the packaging machinery industry, everyone is familiar with filling machines, capping machines, case packer, unpacking machines, labeling machines, and coding machines.Among them: Filling machinery generally packs liquid materials, such as beer, beverages, dairy products, vegetable oils and condiments in the food industry.Bagging machinery refers to filling powder, particles, fluids, viscous fluids and other materials into bags made of plastic or composite packaging materials, and then vacuuming and sealing according to the requirements of the packaging materials to complete product packaging.Wrapping machinery refers to packaging equipment that wraps all or part of the packaging materials with flexible packaging materials, and is suitable for bulky and rigid materials.Labeling machinery mainly carries information such as product manufacturer, production date, product composition, and marketing information in accordance with relevant laws and regulations.case packer machinery is that after the product has been packaged for the first time, it generally needs to be packaged for the second time, which is convenient for storage and transportation.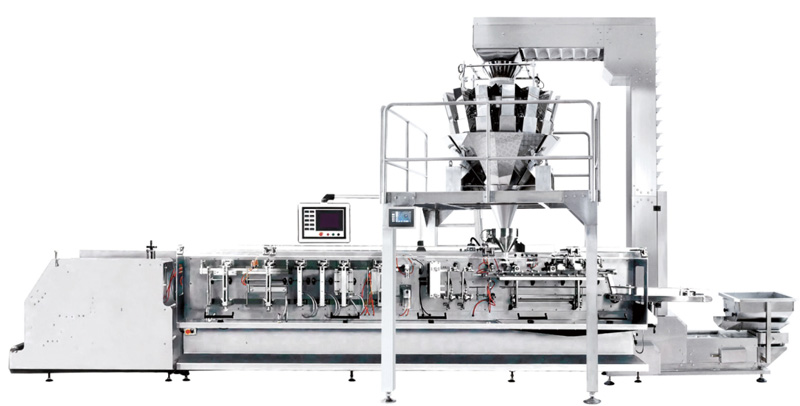 Driven by downstream consumer products such as food, beverages, and pharmaceuticals, the packaging machinery industry, which is a subdivision of the machinery industry, is entering a new growth node. From January to April 2021, the cumulative year-on-year growth rate of fixed asset investment in the domestic food and beverage manufacturing industry was 17.80% and 28.40% respectively. The continued growth demand will provide some stable market demand for packaging equipment.
According to industry analysts, "the growth of packaging machinery in the future will mainly be in three areas: the upgrading of original equipment, and consumption upgrades to promote incremental demand brought about by structural changes in products (such as beer vials, increased canning rates, etc.) The rise of room temperature milk and low temperature milk), and the incremental market brought about by the mechanized and intelligent reform of the liquor industry."
At the same time, favorable factors such as the growth of domestic consumption expenditure, the increase of human resource costs, the large-scale production requirements and the demand for new products are all stimulating the development of the domestic packaging machinery market.
2、 The annual growth rate of the industry scale is 4.5%. Food and beverage contribute to new growth points
The upstream industry of packaging equipment is steel, mechanical components, electrical components, plastic particles and other industries, while the downstream industry mainly covers food, beverage, medicine, chemicals, household appliances, coin making and banknotes printing, machinery manufacturing, warehousing and logistics, building materials, metal manufacturing, paper making and printing, book publishing and so on.
From the perspective of the concentration of downstream application fields, the top three terminal application fields of global packaging equipment and machinery are food, beverage, and medicine. Food and beverage packaging demand accounts for 56% of the overall demand. In the future, global food and beverage production is estimated every year With an increase of 3.2%, suppliers need new packaging equipment when they develop new products.
According to the packaging machinery and equipment survey report released by The Freedonia Group, Inc in 2020, the global packaging equipment market is expected to reach 60.4 billion US dollars in 2023, maintaining an overall annual growth rate of 4.5%, of which 55% of new demand will be concentrated In the Asia-Pacific region.
The faster the update iteration speed of consumer products, the faster the update of packaging. Unlike other machinery and equipment, the replacement cycle of packaging equipment is shorter than the life span. Usually a packaging equipment can be used for about 8 years, but if consumer products are updated or produced As the scale expands, the corresponding packaging equipment also needs to be updated simultaneously. Therefore, when the express train of FMCG starts, the packaging equipment industry that catches the express will also usher in a faster development.
In 2020, China's food packaging machinery industry revenue is about 81.08 billion yuan, an increase of 9.28% from 74.202 billion yuan in 2019. The amount of imported equipment in 2020 is about 10.841 billion yuan, accounting for 13.37%. In the domestic packaging industry, foreign-funded companies still occupy the mainstream market. Internationally renowned packaging equipment companies represented by Tetra Pak, Krones, Bosch, KHS, etc., provide large-scale, complete, standardized, high-precision, high-speed single-machine equipment and intelligent Packaging production lines occupy a major share of the high-end packaging equipment market.
There is still a gap between domestic companies and their overseas counterparts in terms of technology and capital. Only HUBEI JINGSHAN LIGHT INDUSTRY MACHINERY STOCK CO.,LTD and HANGZHOU YOUNGSUN INTELLIGENT EQUIPMENT CO., LTD have annual revenues of more than 1 billion yuan. However, many small and medium-sized enterprises have injected more fresh blood into the packaging industry through their own accumulation and continuous pursuit. For example, Guangdong Kenwei Intellectualized Machinery Co.,Ltd., through its core technical advantages in combination scales and the advantages of large-scale production with an annual output of up to 7,500 various scales, its products are widely used in food, medical, chemical and other industries, with high precision and high speed And high cost performance has become the first choice of weighing products for machinery manufacturers in the packaging industry.
In the future, the integration process of the industry will be accelerated, the small and medium-sized enterprises with low technological content will be eliminated at an accelerated pace, the competitiveness of the advantageous enterprises with independent research and development ability will be further strengthened, and the market share and advantages of the leading domestic segments such as YoungSun, Lehui International, Zhongya, Guangdong Kenwei will be further highlighted.
Domestic packaging machinery is growing steadily in terms of equipment types and output, and is advancing rapidly in the direction of high precision, high speed and high efficiency. According to data from the National Bureau of Statistics, in the first four months of 2021, China's output of special packaging equipment was 228,200 units, a year-on-year increase of more than 159%. In 2020, the output of special packaging equipment in China will reach 263,400 units, a year-on-year increase of 25.2%. Among them, the food, beverage, and wine markets have strong demand for packaging equipment.
In general, the industry predicts that the future growth of packaging machinery will be mainly due to the conversion of new and old kinetic energy, the upgrading of original packaging machinery, the incremental demand for packaging machinery brought about by product structural changes, and the intelligent and digital reforms of the food industry. Incremental market. In this regard, packaging machinery and equipment manufacturers must keep up with the new market demand, accelerate the upgrading of equipment, and carry out innovative research and development at the same time to catch the new growth demand of the industry. Faster development will also be ushered in.